Terschelling, land of our roots. It's called "Schylge," a jewel-like, often sun-drenched, island lying in the North Sea, at the northernmost perimeter of the Netherlands. There are other islands in those parts, but none like Terschelling. It's the home of my dad, Hinne de Jong, and of our forefathers. I am known as Sense of Hinne of Cees of Doeke de Jong.
Close to the famous lighthouse "Brandaris" (built in (1594!), located in the middle of the village of West-Terschelling, you find an old, gated cemetery. There, years ago, I found the graves of my grandparents Cornelis (Cees) Harmens de Jong (1857-1929) and Trijntje Stobbe (1860-1930). Unfortunately, I never knew them: they died before I was born.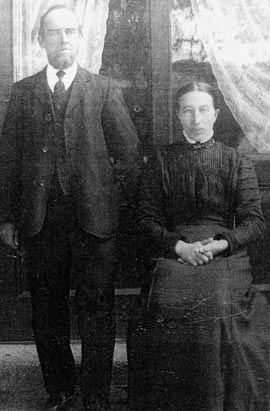 My great-grandparents were Harmen Annes de Jong (1808-1859) and Trijntje Pieters Cupido (1822-1899). Somehow, a certain Doeke Brandenburg became part of our family. Harmen died in 1859, leaving Trijntje with five children. Frouwtje Cupido, a sister of Trijntje, married a certain Doeke Brandenburg. Frouwtje died in 1861, leaving Doeke with six children. In the year 1863, Trijntje and Doeke married. No children were born to them, but the new couple thus had 11 children. Hinne of Cees, therefore, was a grandson of Harmen and not of Doeke. Since Doeke and Trijntje lived together for another 36 year raising those 11 children, it's understandable that the islanders began referring to Hinne as "Hinne of Cees of Doeke."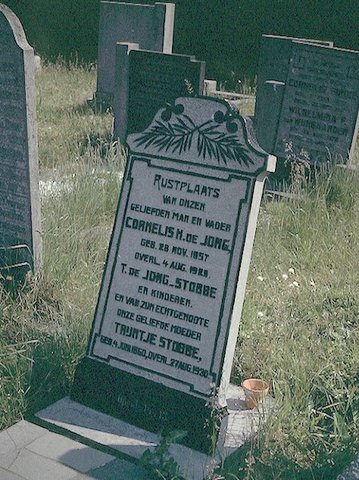 My dad, Hinne, had eight siblings: four brothers and four sisters. Trijntje (Tante Trijn) was born in 1882, and Grietje arrived in 1884. Sadly, Grietje lived less than three years: the Spanish flu, then raging through Europe, claimed her life. Hermanus (Oom Herman) was born in 1887. My Dad was in awe of his older brother. Since my Opa was not too strong, Herman became the family leader, carrying the mantle of authority well. Later in life he ran an abattoir/meat store. He passed away in 1946, a victim of TB, having been infected by a sick cow.
Jacob (Oom Jaap) arrived in 1889. We remember him as a very quiet man. He ran a bakery which, for us kids, was a fascinating place where one could obtain cookies and such things.
Then, in 1891, came Pieter, or Oom Piet. This man was held in great awe by myself. After a life on the great seas, he rose to become a captain (in Dutch: gezagvoerder = bearer of authority) of large ocean-going ships. During WW II he went across the Atlantic Ocean being part of convoys which were often hounded by German U- Boats. His ship, the s.s. Friesland, was bombed from under him by German bombers and sunk in the North Sea. Oom Piet, who could not swim, narrowly saved his life by clinging on to a cabinet and was picked up by a British destroyer. He has written about this event and other things and his story will form the basis of the next chapter.
In 1893, Grietje # 2 (Tante Griet), came into de Jong family. Later, she became one of our dearest aunts. She remained unmarried for 60! years, finally settling down with Oom Jilles Roos on the island of Vlieland. My Dad and Tante Griet were close and we loved her very much. She nursed my Dad back to good health when he fell ill during his stint in the army in WW I (1914-1918) and was sent to Terschelling to recuperate. And, then, in 1896, Hinne, my Dad, was born to Cees and Trijntje de Jong.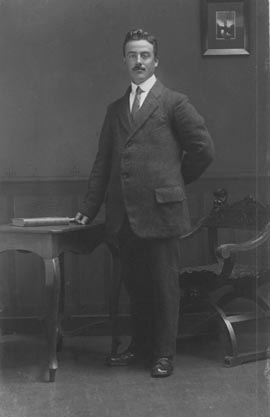 Tjebbe, the inimitable Oom Tjebbe, saw daylight in 1898. If anyone in the de Jong family personified a real "Schylger" it was him. He was a dairy farmer from top to bottom. His wife was called Trijn Roos. With Tante Trijn at his side, they eked out a living and raised a family. He never left the island until after WW II. Then, when he came to the mainland and saw the trains for the first time, he wanted to ride them all day! They lived on the very first farm coming into the polder from West-Terschelling and I remember staying there during WW II, noticing the beam of light coming from the Brandaris every eight seconds, smelling the cows, the hay and the manure. At supper time, Tante Trijn would stand in the door of the cow stall, hollering Tje...bbe!, singing in that peculiar two-syllable way of hers, so loudly you could hear her for many miles around. That sound caused Oom Tjebbe to speedily hoof it over to the "boerderij" (farm), or else face the consequences!
And, finally, Neeltje (Tante Nelie), joined the family in 1901. One could write a book about her life. I always thought she was a lady of some prominence and culture. No one called her with the diminutive"Juffrouw." It was always "Mevrouw" (denoting a higher class) Dobbenga. I vividly recall how she would serve me a glass of sherry and ask: " And, Sense, what do you think of the world situation?" She had married Oom Sies, who was a rather high officer in the Royal Dutch Navy. They lived in the Dutch East Indies (Indonesia) when the hostilities with Japan began. Oom Sies escaped the occupation forces by hiding on a remote island in the Indonesian archipelago. The Japanese never found him, and during his stay the natives declared him king of the island. Tante Nelie pined away in Japanese concentration camps for years. At the end she desperately tried to find out what had happened to her husband. She looked in vain for a long time, until, finally, a British officer told her he knew the whereabouts of a certain Sies Dobbenga. Suffering from the effects of hunger and oedema, they repatriated to the Netherlands, where Oom Sies became commandant of a training base for the Dutch Marines.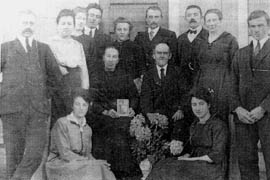 My Opa Cornelis (Cees) and Oma Trijntje raised this large family on the homestead located in West Terschelling. Theirs was a life of adversity and little prosperity. They had strong ties to the Nederlandse Hervormde Kerk (Dutch Reformed Church). It's hard to believe that the old farm was once part of what is today a prosperous village. Remnants of the farmhouse (like the old pump) can still be detected in the backyard of the modern dwelling located at Willem Barentszkade 34, West Terschelling. This is the place where Oom Piet and Tante Alie lived in their retirement after he came home from the high seas. It is where I met Oom Piet for the last time.
The next story is about him.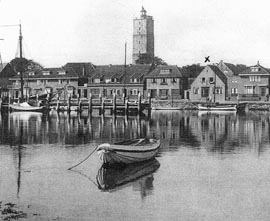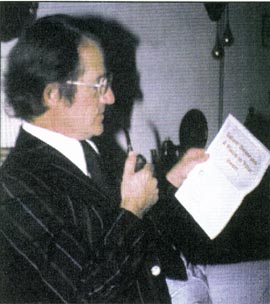 ACKNOWLEDGEMENTS
I'm deeply indebted to the originator of this website, my nephew Henry de Jong, son of brother Herman and his wife, Stiny. It is Henry who brought this multi-year project to a conclusion. Thanks, Henry, for encouraging me, for the many hours invested, and for your patience in dealing with a guy who, basically, is a non-computer-friendly guy.
Thanks to son Paul, who enthusiastically supported my translation and writing efforts. It was he to whom I e-mailed nearly all stories so they could be secured in an Edmonton computer.
My sister, Truus, is very familiar with the provenance of our parents' families. She was a great help filling in the blanks. Her articles about our parents and about Tante Betje are valuable additions. Thanks, Truus!
I also warmly thank Casey Tjooitink, a friend and co-resident of Tabitha Christian Homes in St. Catharines, Ont. He spent untold many hours patiently scanning and formatting the pictures/illustrations that are now included.
A final thank-you to Ineke Medcalf-Strayer who helped me in adding several key texts.

St. Catharines, Ont.
June 2009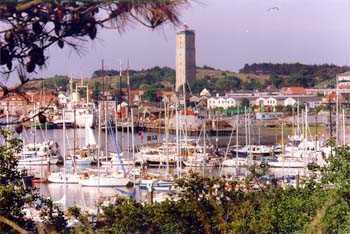 A 21st century view of the marina section of the main West-Terschelling harbor.